You are here
Borobudur Masterpiece Dance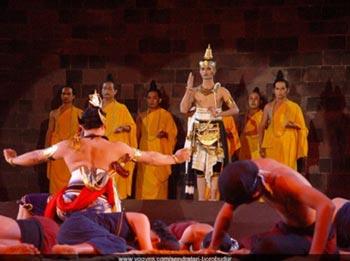 Synopsis Borobudur Masterpiece Dance
Phase 1
The human emotional life changes such as spinning wheels, tend to show greed, violence, and oppression among mankind. It all creates a sense of fear and violence within. Known as the Rakai Panangkaran parents or ascetic highly knowledgeable and virtuous noble characters, always reminding the people who behave badly. Rakai Pangkaran always teaches the life of noble Ryang and teaches life sciences through rock carvings to mankind, the implied level of Borobudur are; Kamadhatu, Rupadhatu, and Arupadhatu.
Phase 2
Given this part, the story depicts the spirit of human solidarity, cooperation, and a sense of unity of the human race who live in the foothills of Menorah, when the construction of the Borobudur temple. All dis-positive wicked will be broken out for temperament, and lead us to sacrifice and help others. The soldiers and their royal troops fought to oust ape creatures of evil in their lives.
Phase 3
King Samaratungga continued the construction development of the Borobudur temple with the help and support of his people of allegiance and ultimately to be able to complete the construction.
Phase 4
King Samaratungga and the people are very grateful to God to complete the construction of the temple of Borobudur perfectly. They sat cross-legged and silent. Under the leadership of a monkey, they pray for a peaceful life in the next future.
Dinner time: 18.00 - 19.00
Dance time: 19.00 - 21.00
Location: Aksobya Open Theater, Borobudur
For the best price, please info your travel date and participants here