You are here
Welcome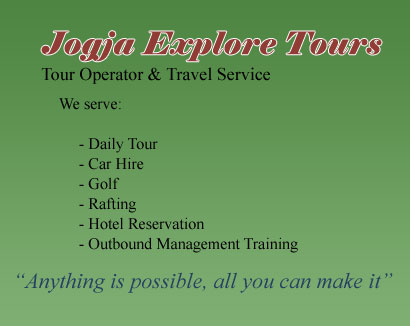 Welcome to Jogja Explore Tours' official website.
Jogja Explore Indonesia is a tour operator travel agent based in Yogyakarta City, Indonesia. Serves daily tour packages, special interest tours, car rentals, and hotel booking as customers expect. We provide Javanese hospitality adequate for a holiday vacation trip in Yogyakarta and other tourist spots. Jogja Explore Tours serves private and group tours as requested for overseas and domestic. Cares of what exactly the customer wants and needs with a low budget but serves you best.
Jogja Explore Tours is a leading tour product with better prices and suitably experienced staff in the tourism industry skill. Qualified staff team, hard workers, flexible and experienced worker team, serves to arrange holiday tour package program for vacation such as intensive tour, trip planning, travel consultant, special interest tour, professional tour guide, transport service, hotel booking, and personal request. We always faithfully abet every customer request for any tourism purpose and any tourist place that wants to be visited in trip planning and come taking place when arranged in advance. Loyalty involves our company commitments:
"Committed to excellent with better service, skills, and experienced"
Thank you for visiting our company website. Please feel free to contact us to get the best service as a partner for the trip program in the mainstay of the tour package itinerary. Handling an expected tour program and taking care of the holiday trip service. Whenever you request any tour package program, you can do it by email or mobile phone. We will be on benefit doing our best for all clients of tour service programs for holiday vacation. Thank you for visiting our company website, hopefully, greet you warmly soon, and enjoy your holidays with us.