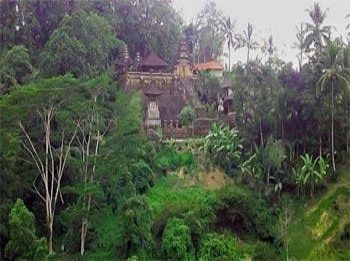 Ubud is a peaceful village and nice place which lies in Gianyar, Bali. It is very famous among foreign tourists because of its location in between fields and forest, the edge of an abyss, mountains. The scenery is beautiful, natural, and fresh surround.
Ubud is very much well known as the center of arts and culture that developed very advanced. Ubud community life could not be separated from the art subject. Ubud village has many art galleries, as well as music and dance performances, it held alternately every night in all corners.
Ubud is very much popular with a western tourist at the beginning of 1930. At that time the German painter was Bruno Walter Spies and Dutch painter; Rudolf Bonnet settled in Ubud. They were aided by Gede Agung Sukawati of Puri Agung Ubud. Right now, their works result can be seen at Painting's museum of Puri, Ubud, Bali.
The terraced paddies rice cut graphic lines into the lush landscape and there are dotted with the pink or white flowers of tropical tree frangipani. As approach the center of Ubud, the greenery gives the way to bustling streets filled with locals and tourists alike, weaving their way in and out of shops, restaurants, and the temple as well.