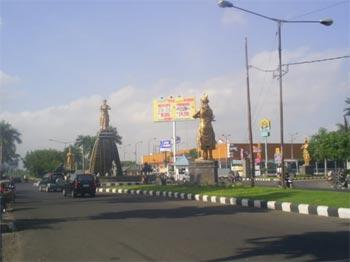 Surakarta is also called Solo, it is the second-largest city in Central Java province and the tenth-largest city of Indonesia. The city is one of the tourist destinations and has a tourism slogan "The Spirit Of Java". It was expected to build a view of Solo city as a Javanese culture center. On the east side of Solo is passed a river immortalized in the song titled Bengawan Solo. The lifestyle of the people here is similar to Yogyakarta, but Solo has a lot more big buildings and famous as a commercial city.
The establishment of Solo is inseparable from Islamic Mataram kingdom history, because Solo was once of government seats, after the removal of Kartasura Palace in 1745. After the division of Mataram due Giyanti agreement, which Solo as its administrative territory Mataram Tamerlane. The Salatiga Agreement in 1753 made ​​the city divided into 2 parts. Unification of the new city government took place during Indonesia's stands.
Solo became one of the tourist destination spots and offers some interesting sights such as Mangkunegaran and Kasunanan palaces, Triwindu antique market, Central Wholesale Solo or PGS market, Klewer market and nature located in the eastern side and some of the natural tourist attractions are Sukuh and Ceto temples, Grojokan Sewu, Kemuning tea plantation, and Jumoh waterfalls.