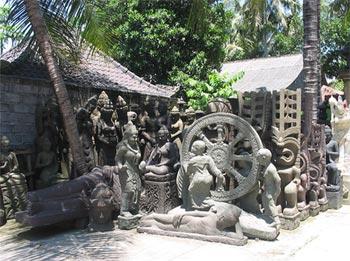 In accordance with size of the art world, natural stone can be used as base for carving craft. Engraving of natural stone with variety of models and form adorn many wall, fence, with fine not less interesting with the wooden carving.
Natural stone materials from Yogyakarta or Majalengka with a lot of relief utilised as beautiful and unique. The model is much preferred sculptural floral, animal, nature or form of royal history. Regardless of model size, natural stone shows the character of the house and close to nature. Stonework can be augmented with splash of water flowing. The atmosphere was like river flowing, making feel at home for long stay to continue enjoying it.
It is not only as sweetener room only but natural stone can also be used as complement to interior of house. Utilisation of rock of both exterior and interior, it is usually made by the owner to get cool atmosphere in the house. This natural stone will look beautiful when placed over the front garden, back side of house with fish fountains statue and carved natural stone, like fish and frogs design rhythm sound of water splashing.