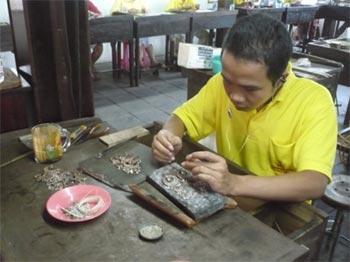 Kotagede is historical place in Yogyakarta and it was a capital city of Mataram Hindu kingdom in the year of 1575. Ki Ageng Pemanahan was the creator of the kingdom of Mataram built and all Java land was own by his power.  Right now, this place is famous as silver craft centre in Yogyakarta.
Kotagede located approximately 10 kilometers south east of Yogyakarta city. This old town has something to do with Sultan palace Yogyakarta, caused it was part of palace territorial and old place as well. The region is now known as Silver City in Yogyakarta, which is center of silver handicrafts. There are about 170 ancient buildings made ​​between the years of 1700 to 1930 and Kotagede is simply referred as the Silver City craft, but the old town is a requirement of old history.
By entering Kotagede region from the north through Gedong Kuning district, small road flanked by classical buildings that lined row on the road. It is exotic place for visitor after going through the gate of Kotagede entrance. When entering this silver city craft, the visitor able to enjoy a variety of silver sold on the home front as well as a gallery with kind and price diversity.
The silver itself is a hereditary culture and originally Kotagede silver craft in form of gold, silver and copper, but as time progresses of craft silver that more desirable. So, that the craftsmen prefer to cultivate more silver until now. Kotagede silver was exported to many countries, especially European and Asia continues to soar each year.