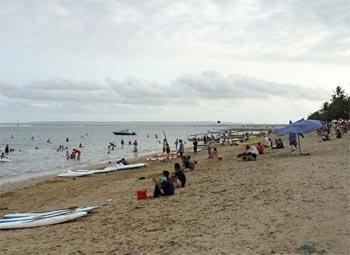 Sanur is one of famous beach tourist attraction in East of Bali islands and it has beautiful beautiful sunrise in he morning. The beach is famous for Sunrise beach as opposed to Kuta Beach, Bali. Lying on the eastern tip of Bali, making the beach as perfect place to enjoy sun shows up. In fact, there is also segment on Sanur beach called Sunrise beach and most of visitor do not want to miss it.
Not all of beaches in Bali can be enjoyed. Some places become property of beach hotel is surround. There are some available boat tours that can deliver to sea grass breeding. In addition, littered good for surfing, plenty water surfboard rentals available at Sanur beach area.
Even though Sanur is not as hectic as trendy Seminyak, it is still heavily tourist and those seeking not tourist spot Bali beach experience won't find it here. This is one of original islands tourist area and at present now is popular especially for family and kid. Occasionally referred to as "Snore" the pace here is far slower and sedentary than Kuta beach and in the midnight just about everywhere closed the shop some coastal tourist areas. Sanur is white sand exotic beach and adorned by lush trees, it is utilized as protective warm sunshine by tourists visiting this tourism area of ​​Bali.