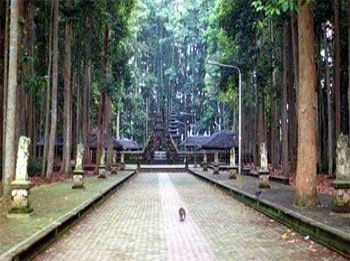 Sangeh Forest Tourist Park initiated on January 1 '1969 and started having stability in 1971. With development funding comes from voluntary donations charged to each visitor who visits Sangeh. Starting January 1 '1969 subject to import levies by law of Level II Badung. In tourism management techniques, Sangeh is fully authority of traditional village manager.
Sangeh forest is not just famous for monkeys benign, but also because of vast forest area which is ​​10 acres. Pala homogeneous forest, seeds are not edible and also the Castle Hill Sare which is relic temple 17th century of Mengwi empire.
Historically, the existence of Bukit Sare temple is closely associated with Mengwi kingdom. Bukit Sare temple founded by Anak Agung Anglurah, Karang Asem Shakti, the adopted son of Mengwi Cokorda Blambangan Shakti. He was son of Karang Asem anglurah Supreme Sakti did penance "Rare" is imprisoned as befits baby or young children. He got inspiration to make temple in Sangeh forest, since Sare temple stands in the middle of woods fitting nutmeg.
According to mythology, which is believed by surrounding communities, Sangeh name closely associated with the presence of Sangeh forest Pala, which comes from two words. Sa means people and ngeh mean looking at, So Sangeh means see monkey. The timber said that in Gunung Agung to one of the island where the West, because of the way it turns out there are looking, it will eventually stop in the trees and up to now called Sangeh.