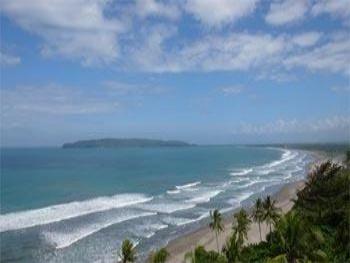 Pangandaran is the most famous beach tourism spot in West Java area. Located in Pananjung village, approximately 92 kilometre south of Ciamis little town. Pangandaran Beach is part of southern Java Sea with beautiful landscape, vast territory, fine sand, crystal clear water and clean.
This is one of tourism attractions and it has been well known since the Dutch Colonial time. In Japanese war period, it was mainly in Gulf coast Pananjung never made landing of Japanese army. There are some Japanese caves that had once been used as places of settlement or hiding of Japanese soldiers who intend to attack the Dutch soldiers. Pangandaran beach has background of Pananjung nature reserve, rich of flora and fauna, also provides opportunity for visitors to see sunrise and sunset as well.
It has characteristic sloping beach with clear water and wave between ups and downs relatively longer, allowing the visitors to swim safely. In addition, Pangandaran beach is also available rescue teams coastal tourism. Conditions around the neighbour hood roads are paved smooth with adequate road also be enabling factor that makes Pangandaran beach becomes as one of favourite tourist spot. Recreation with family at the beach and it is necessity that should be overlooked, especially in holiday season.
Pangandaran beach also provide an alternative option for pleasant beaches attraction, such as: surfing, jet-skiing, snorkelling, boat rentals that can cross over to white sand and see coral under water with ornamental fish. In object Preserve Pananjung, the visitor can see various animals such as: deers and other animals with beautiful nature reserve maintained continuity, nice place and clean.