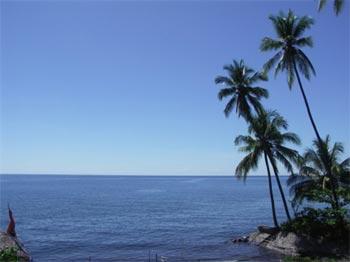 Lovina is coastal tourist area with the main attraction quite water, blackish colour sand and coral reefs with tropical fish. Due to the sea nature is quite and it is very suitable for water recreational activities such as: swimming, diving, snorkelling, fishing, sailing, kayaking or just simply playing in water.
In addition, it can be noted as Lovina beach shore fish having dolphins in original environment. Hundreds of Luma dolphin can be seen in the morning time and it jus 1 kilometre offshore. Dolphin diving, jump up from the water with views of the mountains in south string, reddish sky as sunrise marked sight that gives very alluring appeal. Lovina is also supported by some surrounding tourist attraction within easy to reach. Some tourist attraction around the beach are: Bite falls, Banjar hot water, Buddhist temple, villages and That all is good to see for nature lovers.
The beach is officially called Kalibukbuk, but it is better known as Lovina beach. This area includes 2 districts: Pemaron, Tukadmungga, Anturan village and Kalibukbuk, Buleleng, Bali. Kaliasem village is in Temukus Banjar district and both are in Buleleng regency. Pemaron village is 5 kilometres at west of Singaraja and Temukus village is 12 kilometres at west part of Singaraja. The centre of Lovina area is about 10 kilometres away from Singaraja. The Lovina tourist area is currently part of tourism in Buleleng regency, either some hotel accommodation, cottage or home stay, restaurants, souvenir shops, transport service, money changer and tourist information centre.