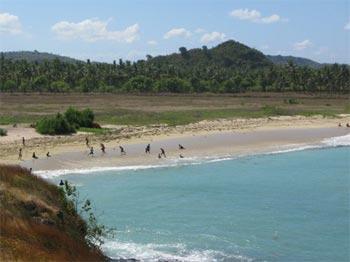 Kuta beach in Lombok is one the most popular tourist spot and becomes main destination. The beach has sparkling white sand and located in Kuta village, Lombok. Kuta village started become tourist attractive spot places and main tourist destination since the establishment of numerous new hotels, restaurants, Spa and local handicraft stalls around.
Beside natural beauty that could be enjoyed by visitors, there is also Sasak ceremony which always done by local people in Lombok every year, it is called Bau Nyale Ceremony.
In ritual ceremony, sailors at sea looking for worms Nyale specified place. According to legend, there was princess named Princess Mandalika. She was famous as pretty daughter from a kingdom and there were a lot of princes, youth who wants to apply marry her. It was not easy to choose one of them, but she got reject all of them.
Princess Mandalika could not make any decisions and desperate. She did not to choose one applicant and plunged into the sea. Princess Mandalika previously promised that she would come back once every year. Her hair was long and disheveled from princess Mandalika was believed to be worm of Nyale.