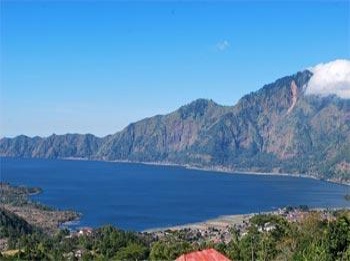 Kintamani is a highland where lies in Batur, Kintamani District, Bangli, Bali. Sights Kintamani area at an altitude of 900 m above sea level air cool dg air temperature during the day and cold at night. To reach this location from Bangli town 20km away. These attractions can be bypassed by a motor vehicle, because it connects the location between the city and the city of Singaraja Bangli. As for the route connecting objects with Tampaksiring Kintamani area and Besakih.
Major sights adjusted to the Kintamani region potential namely Mount Batur and Lake Batur. The name derives from the name Pura Batur which is one of heaven in that area. Before the eruption of Mount Batur in 1917 Pura Batur is located at the foot of the southwest of Mount Batur.
Due to the damage caused by the eruption of Mount Batur, the Pura Batur with villagers moved somewhere they now reside. The remains of the frozen black lava, erect towering Mount Batur and Lake Batur shaded blue, it is the main attraction for any visitor. From Penelokan, we can look at the blue Lake Batur and bubbles surf boat driver pulled accompany tourists and serve as public passenger crossings in each village to village of Kedisan toward Trunyan.
The fishermen also have activities in the Lake Batur those ways Tilapia fished, catch sold in the market town Bangli. So, in Bangli known as Tilapia satay with typical food and a diet typical of the city of Bangli.