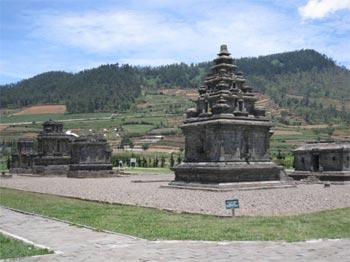 Dieng plateau is one of nice tourism spot and as the highest plateau in Java Island. Dieng's name was taken from 2 Sanskrit words, "Ardi" means beautiful and Hyang means high. Dieng plateau tells us about the beautiful winsome as place of Gods and Goddesses to reside. So, Dieng means mountainous area where the Gods and Goddesses to live. Dieng is village in district and bordering counties Kejajar Banjarnegara. This area is located approximately 26 kilometres north of Wonosobo little town.
On the left and right of the road looked stunning scenery. Approached Dieng village, it has lower temperature and makes sure for visitor to wear jacket. The cold sometimes can reach several degrees Celsius and the fresh scent of a vague color sulfur smell, especially around Sikidang crater tourism spot area.
There are indeed many craters are still active in Dieng plateau. From a distance, the mountain peaks Dieng looked like broken thereby leaving the heavily cratered terrain. That is why Dieng very famous with name of plain above the mountains. Fertile land with plenty of vegetable grow such as; cabbage, potato, onion, carrot, and many others around.
Dieng plateau region is one of the mainstay tourism of Wonosobo district. Tourism objects not merely the plateau itself, but on the sidelines that there are numerous tourist attractions in natural and cultural heritage form at the past. Visitor can reach Dieng plateau from Wonosobo or Banjarnegara town and best time to visit it in between May up to October.