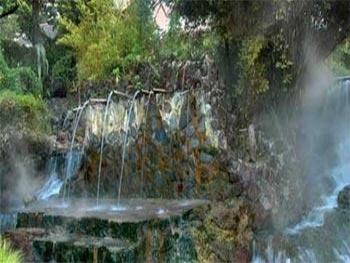 Ciater hot spring located at the foot of mount Tangkuban Perahu, precisely in Ciater village, Subang, West Java province. Ciater hot spring tourism spot is one of most popular tourist destination near Bandung, West Java. The tourists can enjoy natural hot springs from active crater of Mount Tangkuban Perahu, which located not far from Ciater tourist attractions spot.
The hot springs are presented in swimming pool form and wading rooms with unique designs and scattered in several locations of Ciater sights. With total area of ​​30 hectares and it is typical of natural charm from the mountains tourism, which provides many facilities for visitors who wants to enjoy recreation with friends, family, college in nature beauty.
There is Sariater Spa as place of health and fitness center, which provides tourist facilities. So, the visitors can make sophisticated treatment to rehabilitate various diseases while doing recreation with family. Recreation of facilities available includes: heated wading pool, camping ground, boat lake, and resting point area. Outdoor recreation can be alternative choice for traveler simply enjoy the beautiful panorama of Subang village, while doing activities mountain roads, sports, jogging and swimming with friends or relatives.