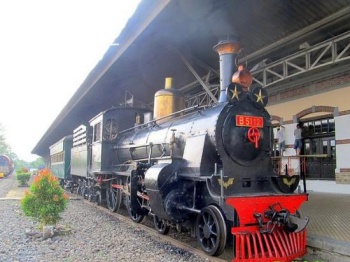 Ambarawa Railway Museum was built in 1873, at the time of Prince William I. The museum has several rooms such as: museum office, passenger waiting room, a collection of old Loco and others. The Railway Museum is located on the slope of mount Telomoyo, about 2.5 hours travel toward the north of the city of Yogyakarta.
Compared with other museums, the museum building but kept pretty much a collection of cars that have seriously damaged the rental car only to commercial only and still operate. Old steam train key is not able to operate longer and are in workshops around the museum.
However, stations in still looks nice and clean like other old train museum. Thoroughness of system you are working on a steam train, especially in the days of Dutch Colonial is very noteworthy, and there is an old wall clock which is still good and kept at the museum walls.
Right now, there are two Loco machines still used to serve the traveler who want to feel how traveling with old car that had been used in the past. Travel by car from the old Loco Ambarawa depart from the station to Bedono village, 20 kilometre away within 2 hour return trip.